It's good. But you would look much sexier in smaller bikini. Revealing more of your sexy butt, mmmm.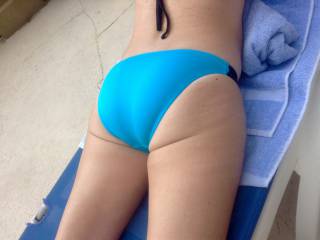 Mmmmmy favorite one position! I'm gonna grab that hot ass with my hands and start to lick gentle and hard rubbing up/down through your ass gap - your pussy and asshole, playing with clit, eat it all your sweet pussy, continue do tongue fuck and fingering your holes. Make your pussy very hungry to feed her deep fulfilled with my big very hard cock. 
I'm gonna drive you crazy and make you very wild.
You gonna groan, moan, roar, scream.
I'd (I'll) kneel and fixing your legs with mine or climb on your sweet hot ass, start teasing your ass and pussy rubbing up/down through your ass gap with dickhead of my big hard cock in my hand, then start to ride and drill you - first tease your holes with my dickhead do rubbing circles then slide shallow dickhead only, then stinging you in/out (pull your hair back, nibble your shoulders and neck), then ramming and drilling deep fulfilled you deep inside (of course if you like hard and rough sex). That will gonna be a wild ride. This has got to be the best I have ever seen that is what I call a perfectly shape onion (that means a ass so perfect it makes you want to cry. I'd slide those off and put my face in your ass and tongue fuck your pussy and asshole till you dripped on my face. Damn your bathing suits all make me rock hard! I wouldn't exactly do my best to hide it either! Sexy Woman! Your skin looks so smooth. What's your secret? You should put your sexy rear in a thong or rio cut style.