Anybody else see that her asshole is heart shaped? Lol great stuff sexy.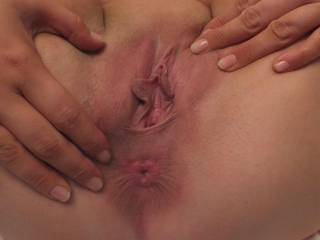 Kiss it, bite it, lick it, smack it, push it, pull it, grip it, hold it, rub it, spread it, fuck it.
 Massage it all over with my warm stiff cock, left, right, up and down both inner thighs, slapping against your pussy lips over and over, rubbing your hard clit until your juices coat me and are running down your thighs. You're pure delicious anal candy, baby. That butt hole makes my mouth soooo watery. Your pussy and ass must be really yummy to tongue and eat you as deep as possible every day. I think that's a fantastic view, my immediate impression was - omg I'd love to get my tongue on those gorgeous holes. Ohhhh man that's a nice one. I love meaty lips like yours and mmmmmm very tight I see 😉 Id love to spend a few hours exploring your sexy arse and sweet pussy with my tongue x x x.